A Patient Grew 6cm Taller after the Surgery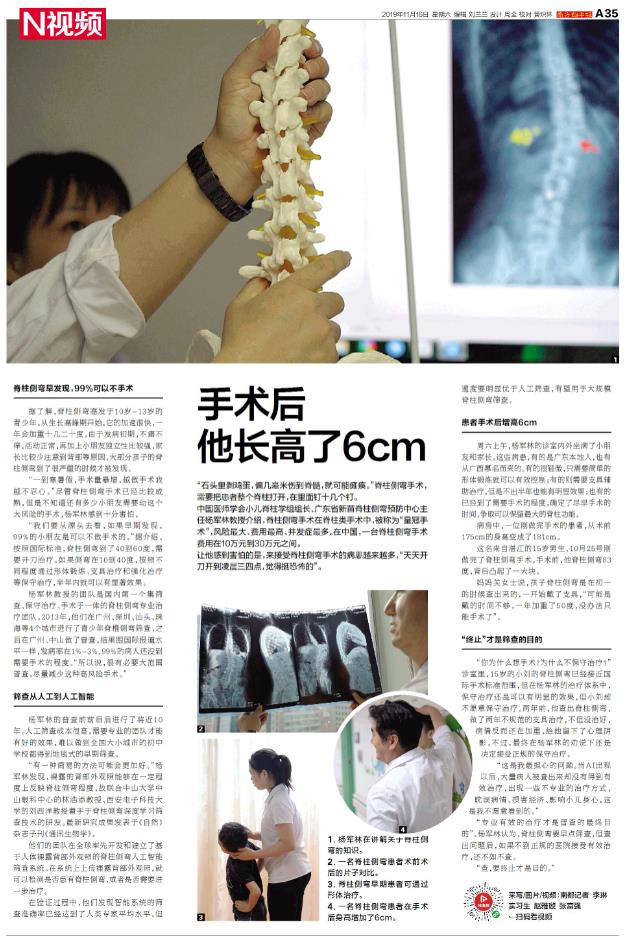 "While searching for an egg in a pile of stones, you must be cautious. Likewise, in scoliosis surgery, you must be vigilant. One small error can lead to paralysis. In a scoliosis surgery, the patient's entire spine needs to be opened. More than a dozen nails need to be nailed in it." said Professor Yang Jun Lin Head of the Pediatric Spine Group, Chinese Academy of Physicians, Director of the Guangdong Xinmiao Scoliosis Prevention Center. Scoliosis surgery is the most complex surgery in orthopedic. It is often crowned as the most elaborative surgery because of its high-risk, expensive operative cost with wide range of complications. In China, scoliosis surgery costs from 100 000 to 300 000. With increasing number of such surgeries, Professor Yang normally finished the operation until 4 AM.
If discovered early, up to 99% of scoliosis can avoid surgery
According to research, scoliosis is discovered between the age of 10 to 13. In the peak of growth, the disease rapidly grows. Every year it increases up in 10 to 20˚. Because the disease's early stage is often undetectable because of non-visible symptoms, children's strong independence, and parents' neglect towards children's back. Most scoliosis is detected when it is in a deteriorated stage.
"When it comes to summer and winter vacations, the amount of surgery increases dramatically, Although I have cumulative experience in these surgeries, there are high-risks in this surgery." Said Professor Yang
He further said that if scoliosis is detected early, 99% of the adolescent can avoid surgeries. According to international standards, scoliosis reaching 40 degrees requires surgery. Between 10 and 40 degrees, conservative treatments such as physical exercise, brace treatment, and intensive treatment can be achieved according to different degrees, and there will be a significant effect within six months.
Professor Yang and his team are the first to combine scoliosis screening, conservative treatments, and surgeries altogether. In 2013, they conducted scoliosis screening among adolescents in Guangzhou, Shenzhen, Shantou, and Zhuhai (many who were in middle school). Then they conducted a survey in Guangzhou and Zhongshan which showed results similar to the international report of scoliosis. Researchers have found that the incidence rate is between 1-3%, 99% of the patients did not require surgeries. So it is necessary to conduct a large-scale screening to prevent adolescents from undergoing high-risks surgery.
From Manual Screening to Artificial Intelligence (AI)
The screening project has been going on for nearly a decade. Professor Yang said that manual screening test is very costly and requires a team of experts. To obtain good results in all cities across China is practically impossible.
To be more effective and efficient, he proposed a plan that allows patients to take pictures of their naked back because such photos reveal to a certain extent the seriousness of scoliosis of each patient. Along with Professor Lin Hao Tian (an associate from the Ophthalmology Center of Sun Yat-Sen University) and Professor Liu Xi Yang (an associate of Xi'an University of Electronic Technology) began to research and develop scoliosis developing learning/screening system. Their latest results are published in the sub-journal of Nature.
Their team is the first in the world to develop and establish an artificial intelligence screening system for scoliosis based on a photo of the naked back of the human body. By uploading a photo of the naked back on the AI system it would detect whether you have scoliosis and whether you need further treatments.
In the process of verification, they have found the accuracy of the AI system has similar knowledge to a scoliosis expert. Moreover, the system's efficiency is higher than manual screening. They are hoping this system would be used in a large-scale scoliosis screening.
A patient grew 6cm taller after the surgery
On a Saturday morning, Professor Yang's clinic was filled with children and their parents. Most of them are locals or from the Guangdong province. Somewhere from out-of-province like Guangxi. Some had minor scoliosis, which required postural training to contain. Some needed bracing therapy. But they all showed great outcomes in half a year. Some may need surgeries to improve their spine structure. Once they have confirmed with the operation date, the doctor strive to maintain the maximum spinal function.
In a patient room lies a young boy (from Zhan Jiang) who just completed his scoliosis surgery. His had the operation on October 25th. Prior to his surgery, his spine was at 83˚ with a large bulge on his back. His mom said that the scoliosis was detected earlier on. In the beginning, he wore a brace. The mother attribute to not wearing the brace regularly as a factor in proceeding to surgery. After the boy completed his surgery his height went from 175cm to 181cm.
"Preventing" is key
"Why do you want surgery?", "why not proceed with conservative treatment" these were questions raised by Professor Yang when the young boy persisted on wanting a scoliosis surgery. Although his scoliosis degree was close to the international standard of operating, Professor Yang insisted that he proceed with conservative treatment. But the boy decline Professor's proposal. Before meeting with Professor Yang, the boy has undergone non-standard brace treatment for 2 years, which makes it worse. He wanted end this disease once in for all through surgery. Although Professor Yang firmly recommends conservative treatments.
"This is my biggest worry," says Professor Yang. Most patients who are diagnosed with scoliosis do not receive the most effective treatment. "When diagnoses and treatments form shadows in children's minds is the last thing I want to see," said Professor Yang.
Professor Yang believes finding an effective and personalized treatment is the ultimate goal. In his perspective scoliosis must be diagnosed early. "If diagnosed with scoliosis and the treatments were ineffective, I would rather not have it screened." The screening must to effective.